Halloween, I hate saying it's my favorite holiday because really, every holiday is my favorite, as we all know!
But i really have come to love this holiday! I grew up for the better part of my life not celebrating it. There was a few years we had "harvest" parties where once I dressed up as baby. But that's about as far as my Halloween traditions went. Because of that, I guess I never really even got into the decor of Halloween. I just decorated for fall. But, the past couple years the girls have really pushed for it so I have decorated & loved it! We don't go all gorey & scary but just a bit of spooky-ness!
Of course, our favorite is family costumes. Every year we sit down & pick out our theme. The girls come up with them, & then we narrow it down on who will be what & what I can make. I try always make/repurpose everything we wear. Be it dying clothes, cutting & sewing things on other garments ect. It keeps costs down & is alot of fun! Our favorite part is asking our friends & family what they think we will be. We never tell, & everyone waits til Halloween night to find out!
Here are some from years past:
I've been having some health issues lately & insanely busy that my costume this year, just got away from me. We couldn't come up with just the character for me; & when we did I Just didn't have enough time or energy to come up with something!
This year our theme is the terribly under-rated Wreck It Ralph:
Kensley was Vanellope Von Schweetz: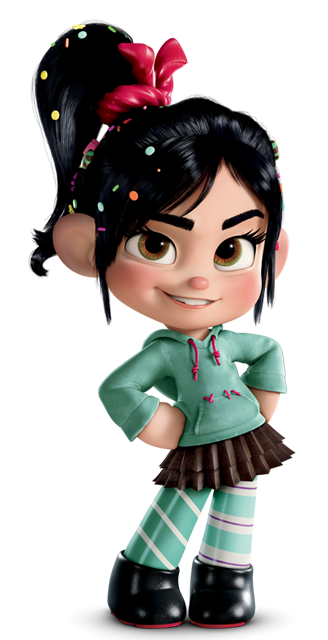 From top to bottom: Candy buttons & Licorice are clay hair clips, sweatshirt was just a plain Hanes sweatshirt with fushia cord cut & sewn to mimic the cartoon, the skirt was from goodwill, it was originally lime green but I dyed it brown, the leggings: are footless tights that I hand-painted t mimic as well. Then we sprayed her hair black for overall look!
Kennedy was Fix-it Felix Jr.